Brenda the Butterfly is a purple Squishmallow belonging to numerous squads.
Bio
Brenda loves to be outside and enjoy the sun! She has a green thumb and sells flowers from her garden at the farmers market every week. Her favorite flowers are marigolds and phlox!
Appearance
Brenda is a butterfly with a lilac colored body. Her belly is an even lighter shade and is striated with pink lines, the same color as the blush on her cheeks. Her antennae and wings consist of shimmery pink and a soft, dreamy purple color. She has round eyes with short lashes and a red, smiling mouth.
Different Versions: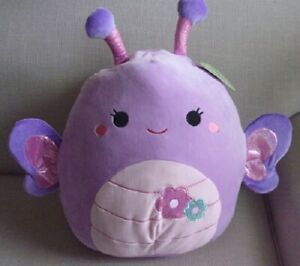 Community content is available under
CC-BY-SA
unless otherwise noted.